Although more employers are able to return to in-person work formats, many have realized the capability and utility of working remotely during the pandemic and are giving their employees and new hires the best of both worlds, according to results of NACE's Job Outlook 2022 Spring Update survey.
When asked about the modality of work for overall positions, respondents indicate that an average of 41% of their overall positions are performed in a hybrid manner and an average of 39% of their overall positions are fully in person. Only 20% of their overall positions are performed in a fully remote work environment. (See Figure 1.)
The focus shifts slightly when applied to entry-level positions as respondents anticipate that 42% of their entry-level positions will be fully in person, 40% will be in a hybrid modality, and 18% will be fully remote.
Of course, the modality of work—whether for overall or entry-level positions—is highly dependent upon whether the work can physically be performed in a remote or hybrid manner. For example, construction firms have an average of 0.2% of their overall and entry-level positions performed in a fully remote manner. Additionally, engineering services report just an average of 1.3% of overall positions and no entry-level jobs that are fully remote.
While it may be too early to proclaim the shift to the blended approach to work is here to stay, the hybrid modality does provide a level of flexibility that is appealing to many employees, seasoned as well as new hires. This, coupled with the fact that employers have been able to vet their employees' ability to operate remotely during the pandemic, suggests the hybrid modality could well be the new normal.
Each year, NACE surveys employers regarding their hiring intentions for the graduating class; this is conducted in two parts—fall (Job Outlook 2022) and spring (Job Outlook 2022 Spring Update). The Job Outlook 2022 Spring Update was conducted from February 2 – March 11, 2022. Of the 196 total respondents, 160 were NACE employer members, representing 19.8% of eligible member respondents, and 36 were nonmember companies. The Job Outlook 2022 Spring Update report is available to NACE members in MyNACE.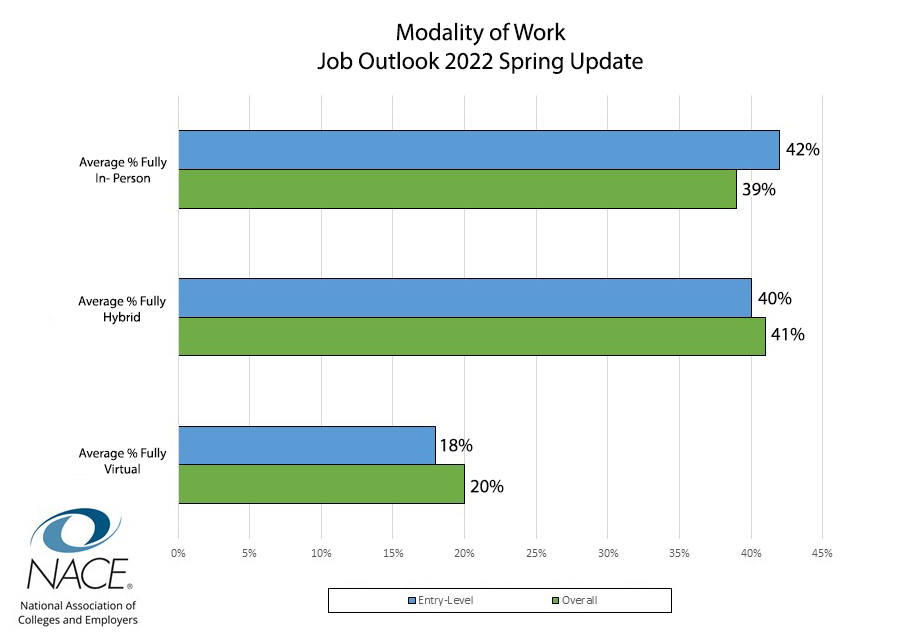 Source: Job Outlook 2022 Spring Update, National Association of Colleges and Employers