Among respondents to a recent NACE quick poll on mental health, more than half of the association's employer members (54%) and more than two-thirds of its college members (68%) reported experiencing burnout, defined by the Mayo Clinic as a "state of physical or emotional exhaustion that also involves a sense of reduced accomplishment and loss of personal identity."
Results of the poll are detailed in Mental Health, Well-being, and Job Satisfaction: A Special Report From NACE.
Overall, college members said that they experience burnout at higher numbers and more regularly than employer members, with the biggest discrepancy between the two coming among those who feel burned out nearly every day (11.1% of college members vs. 3.5% of employer members). Among those who feel burned out more than half the days or several days a month, college members were still more likely to respond in the affirmative, although the margins were much closer (17.5% vs. 15.2% for more than half the days and 39.3% vs 35.7% for several days a month). (See Figure 1.)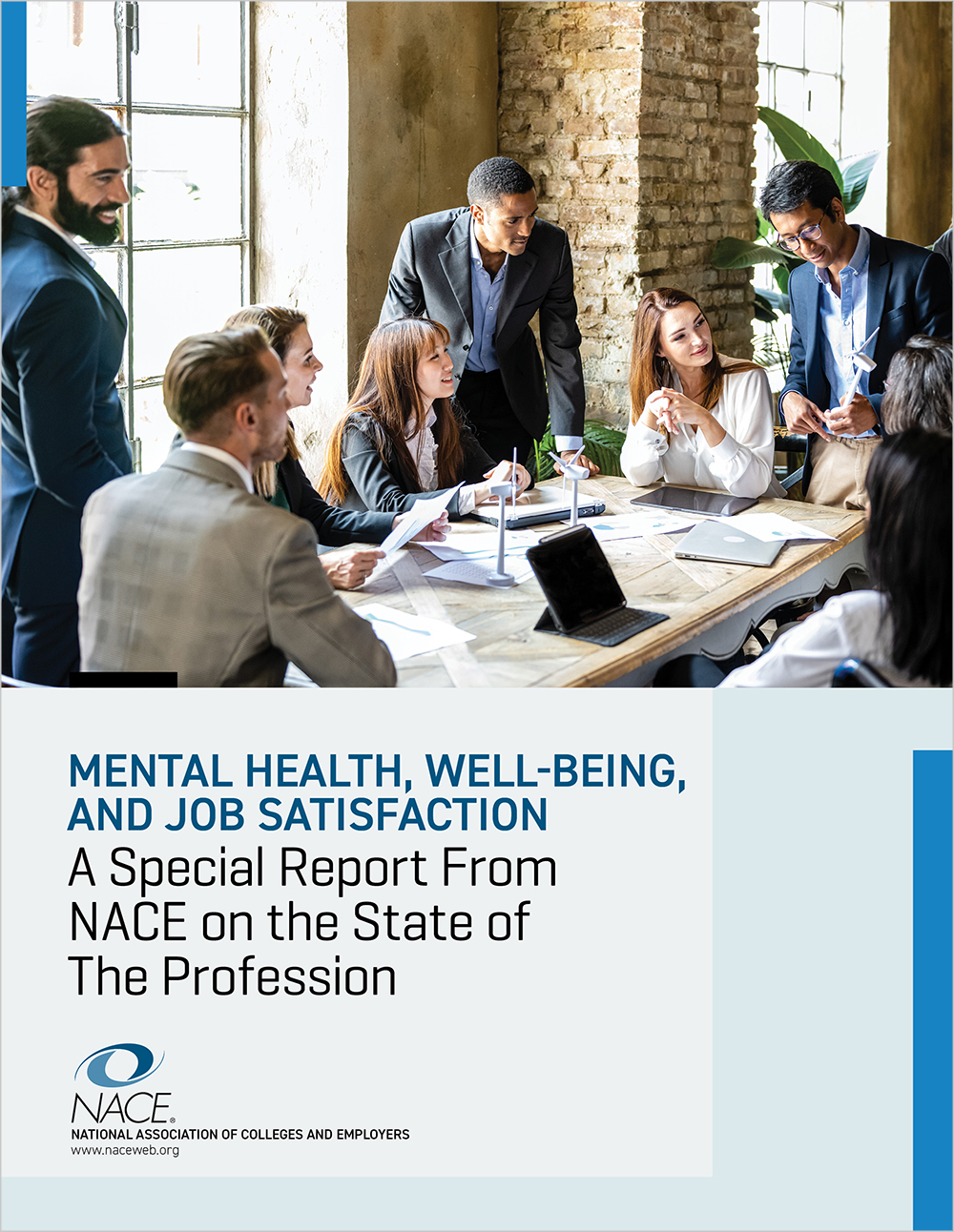 Free to NACE Members
Mental Health, Well-being, and Job Satisfaction: A Special Report From NACE
GET YOUR COPY TODAY
When it comes to the cause of burnout among NACE members, results seem to point strongly toward work-related factors: More than half of both employer members and college members said workplace demands/responsibilities are the leading source of stressors that negatively impact their mental health, with college members once again responding in the affirmative in slightly higher numbers (56.3% vs. 52.4%). Interestingly, workplace culture was also listed as a leading stressor, especially for college members (37.9% vs. 20%), which seems to indicate that not only are job responsibilities negatively impacting the mental health of NACE members, but the social aspect of work also has a negative impact.
Given the burnout that both college and employer members are feeling, attrition within both the college career services and talent acquisition fields could be significant in the coming year, as 39.3% of college members and 26.8% employer members say they are either somewhat or extremely likely to seek new employment within the next 12 months.
Alleviating Work-Related Stress and Burnout
With an eye toward alleviating work-related stress and burnout, there are steps that organizations can take, such as, but not limited to:
Considering policies around flexibility and work modality;
Gathering data to assess and monitor employees' well-being through confidential polls and surveys and using the results to help inform mental well-being offerings;
Giving employees opportunities to participate in decisions about issues that affect job stress; and
Providing managers with training to help them recognize the signs and symptoms of stress, anxiety, and depression in team members, and encouraging employees to seek help from qualified mental health professionals.
NACE conducted its quick poll February 27 – March 23, 2023. The poll was distributed to 7,857 college members; 1,481 responded, for an 18.8% response rate. The poll was also distributed to 3,232 employer members, of which 184 responded, a 5.7% response rate. Poll results and analysis are available in Mental Health, Well-being, and Job Satisfaction: A Special Report From NACE, which is free for all NACE members.