2022 NACE Recruiting Benchmarks Report & Dashboard
This product marks a new and dynamic way for the NACE community to experience and glean meaningful trends and insights from recruiting and compensation benchmarking report results.
THIS PRODUCT CONTAINS:
Executive Summary: 2022 Recruiting Benchmarks Report
Add to CartView EXECUTIVE SUMMARY
Fee: $245 (members); $390 (nonmembers)
This report and dashboard are FREE to all member participants. If your organization participated in the survey, or you purchased the report, go to MyNACE > Research Reports > 2022 NACE Recruiting Benchmarks Report & Dashboard to access the reports.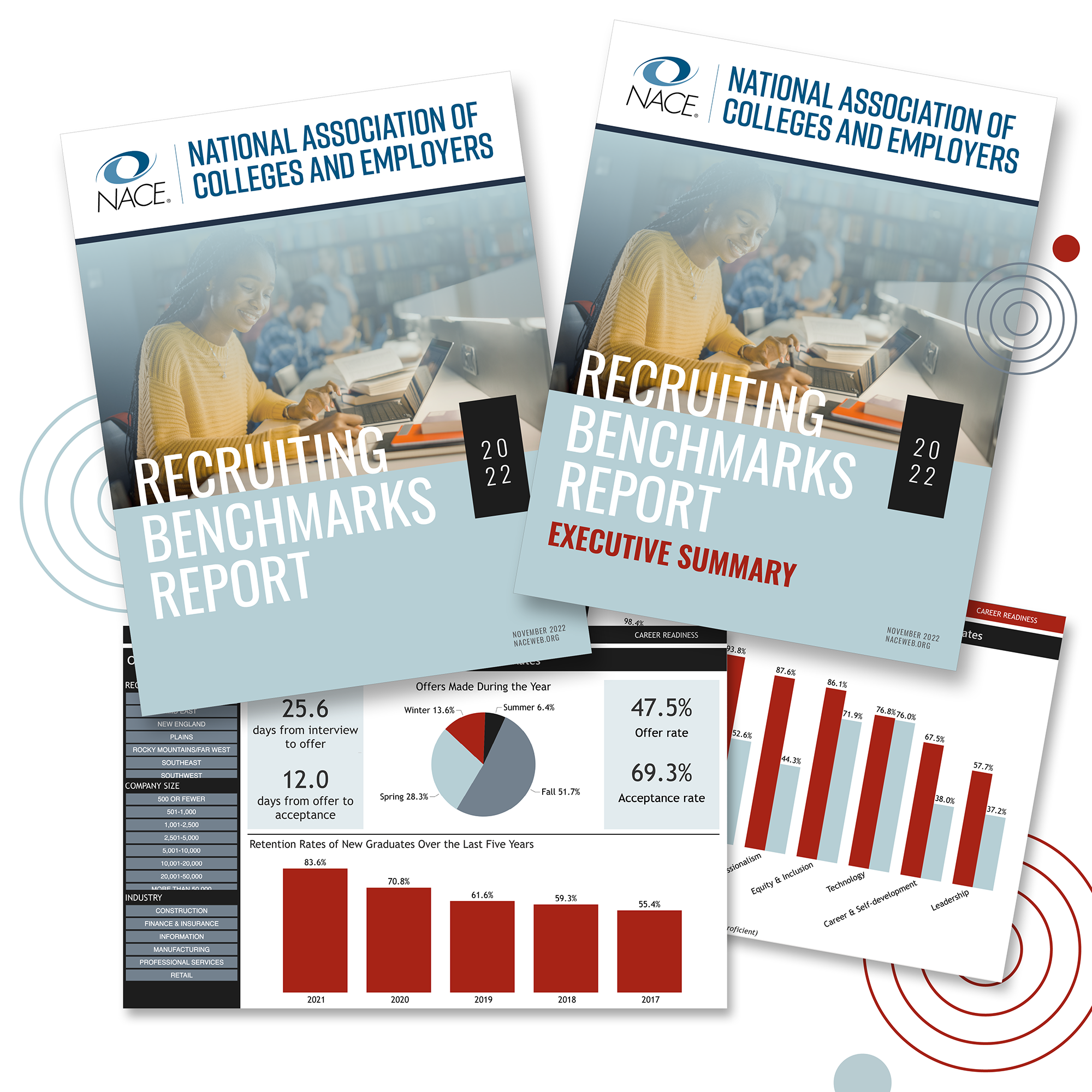 ---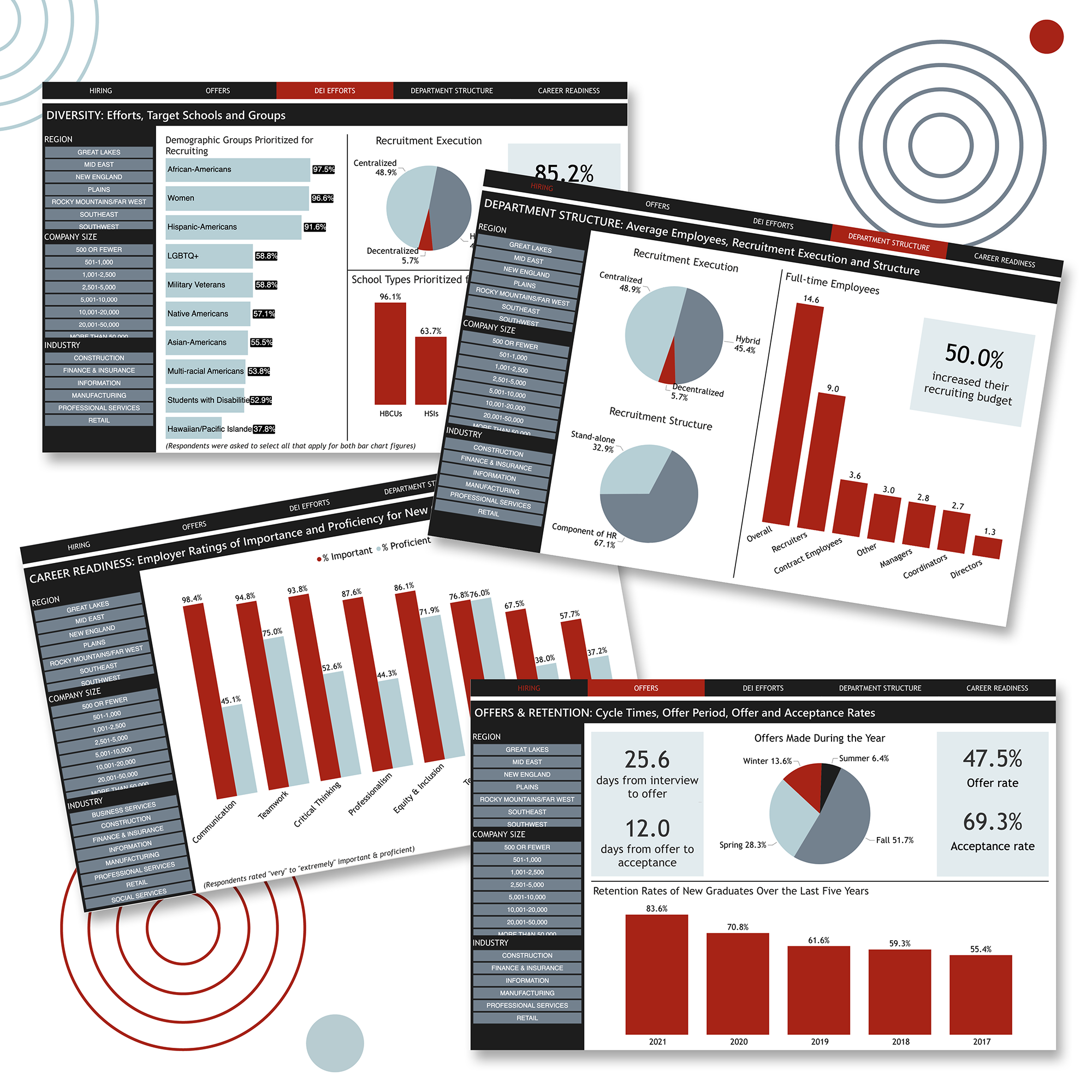 DASHBOARD
Filtered Data & Custom Views
Create custom views by filtering this interactive dashboard by region, company size, industry:
Hiring Activity: Graduate Hires, Overall Hires, and Channels Used
Offers & Retention: Cycle Times, Offer Period, Offer and Acceptance Rates
Diversity: Efforts, Target Schools and Groups
Department Structure: Average Employees, Recruitment Execution and Structure
Career Readiness: Employer Ratings of Importance and Proficiency for New College Graduates
November 2022. Microsoft Power BI. Web format.
WATCH A DEMO OF THIS YEAR'S INTERACTIVE DASHBOARD
---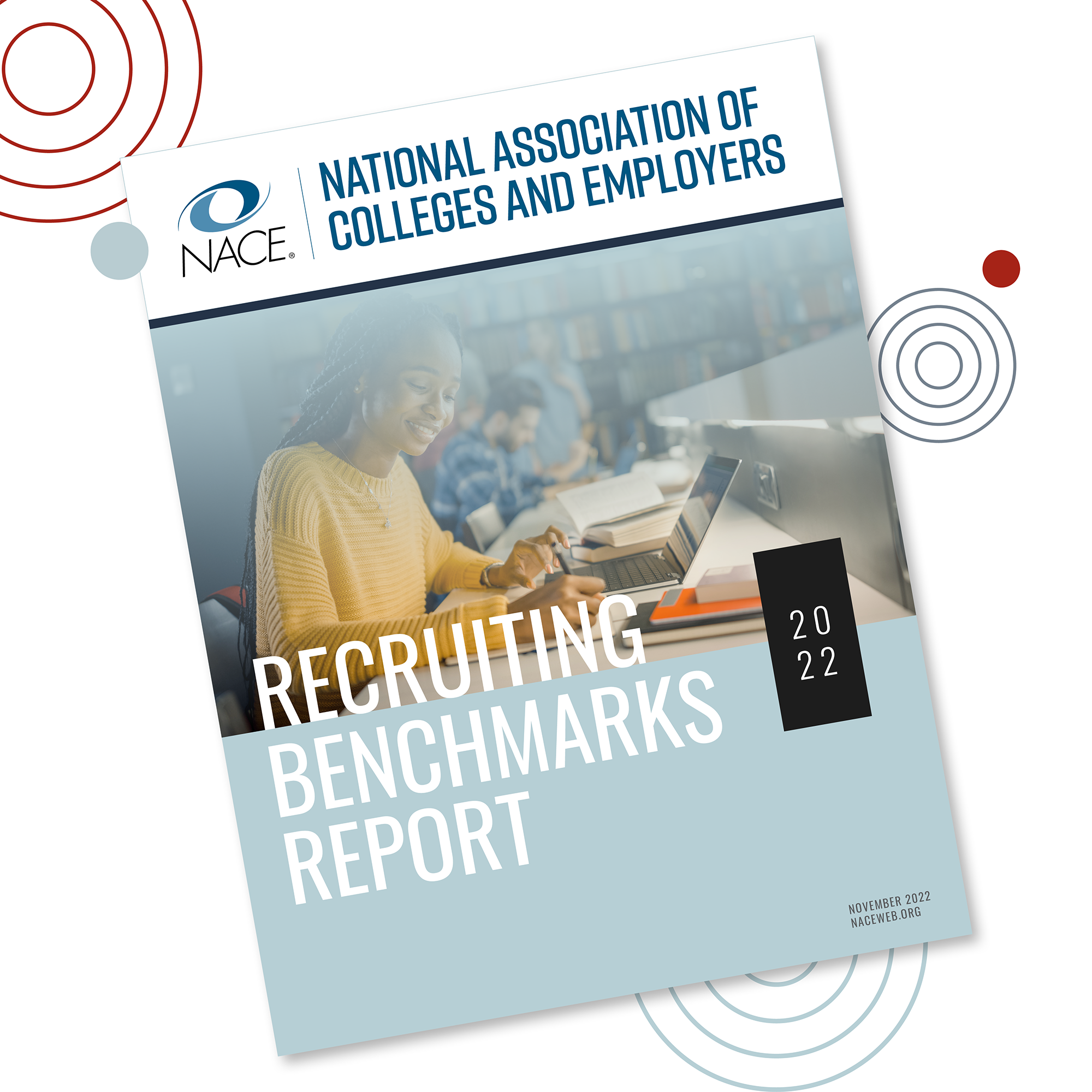 REPORT
Dive Deep into the Data
Read the full report to learn more about the percentage of U.S. vs. International new hires; average number of recent graduate hires; full-time staff members by organization; importance and proficiency of career readiness competencies for new college graduates; recruiting budgets; diversity recruiting efforts, including hires by job type, race, ethnicity, and gender; methods of communication used in the hiring process; cycle times from interview to acceptance; and more.
November 2022. 8 1/2" x 11". 21 pages. PDF format.
---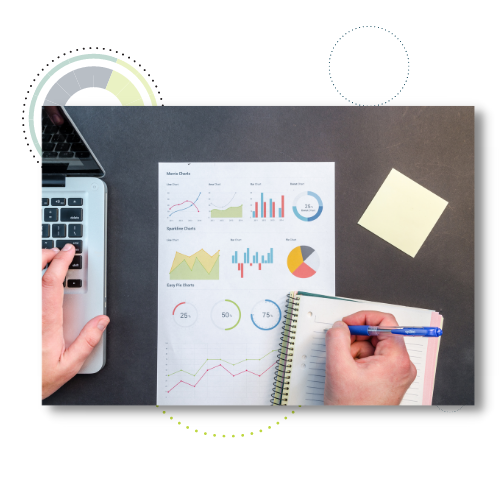 Benefits of Survey Participation
Take part in an essential contribution to the profession
Primary research surveys are administered annually to assist career services and university relations and recruiting professionals in making data-driven decisions; identifying new opportunities; and forecasting for the future.
NACE members who participated in the NACE Recruiting Benchmarks Survey receive free access to the product for every single NACE member at their organization at MyNACE > Research Reports > 2022 NACE Recruiting Benchmarks Report & Dashboard. Nonmembers who participated are eligible for a discounted rate.
To learn more about survey participation, contact NACE Research at research@naceweb.org.
---
You may also be interested in...