2022 NACE Student Survey - 4 Year
ANNOUNCING THE NEW NACE STUDENT SURVEY REPORT & DASHBOARD
This product continues to provide a dynamic way for the NACE community to experience and glean meaningful trends and insights from student survey results, which included nearly 16,000 participants from 262 institutions. The offering includes the following features:
An interactive data visualization dashboard that allows for personalizing key data points to inform decision making about student and candidate engagement.
A comprehensive report on the state of student preferences and attitudes regarding their career development including experiential learning, their job preferences including modality, and their success in the job market and at career fairs.
An executive summary that summarizes the highlights of the findings.
THIS PRODUCT CONTAINS:
Executive Summary: 2022 NACE Student Survey Report
Add to Cart View EXECUTIVE SUMMARY
Fee: $235 (members); $370 (nonmembers)
This product is FREE to all member participants. If your organization participated in the survey, or you purchased the report and dashboard, go to MyNACE > Research Reports > 2022 Student Survey Report & Dashboard – 4 Year to access the reports.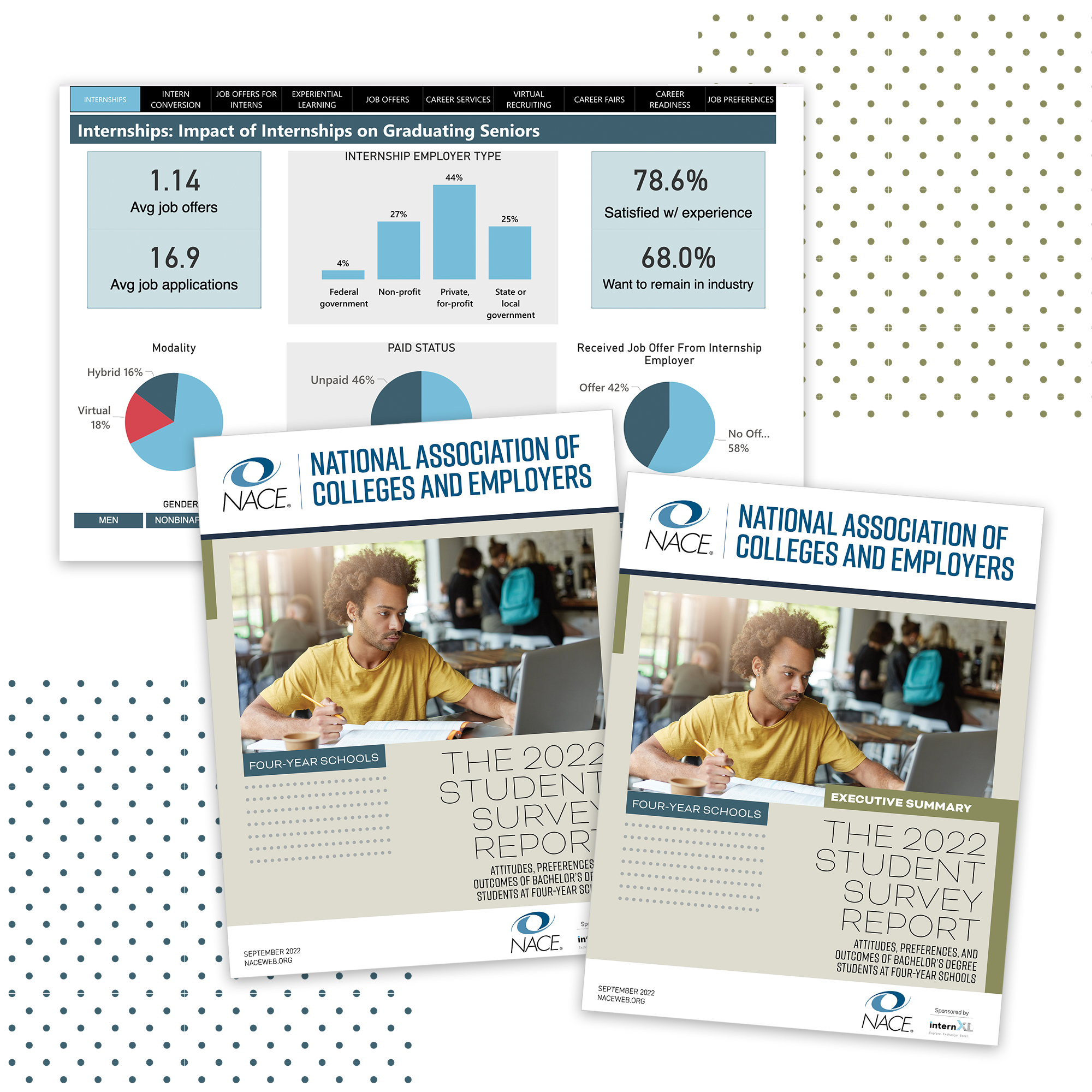 ---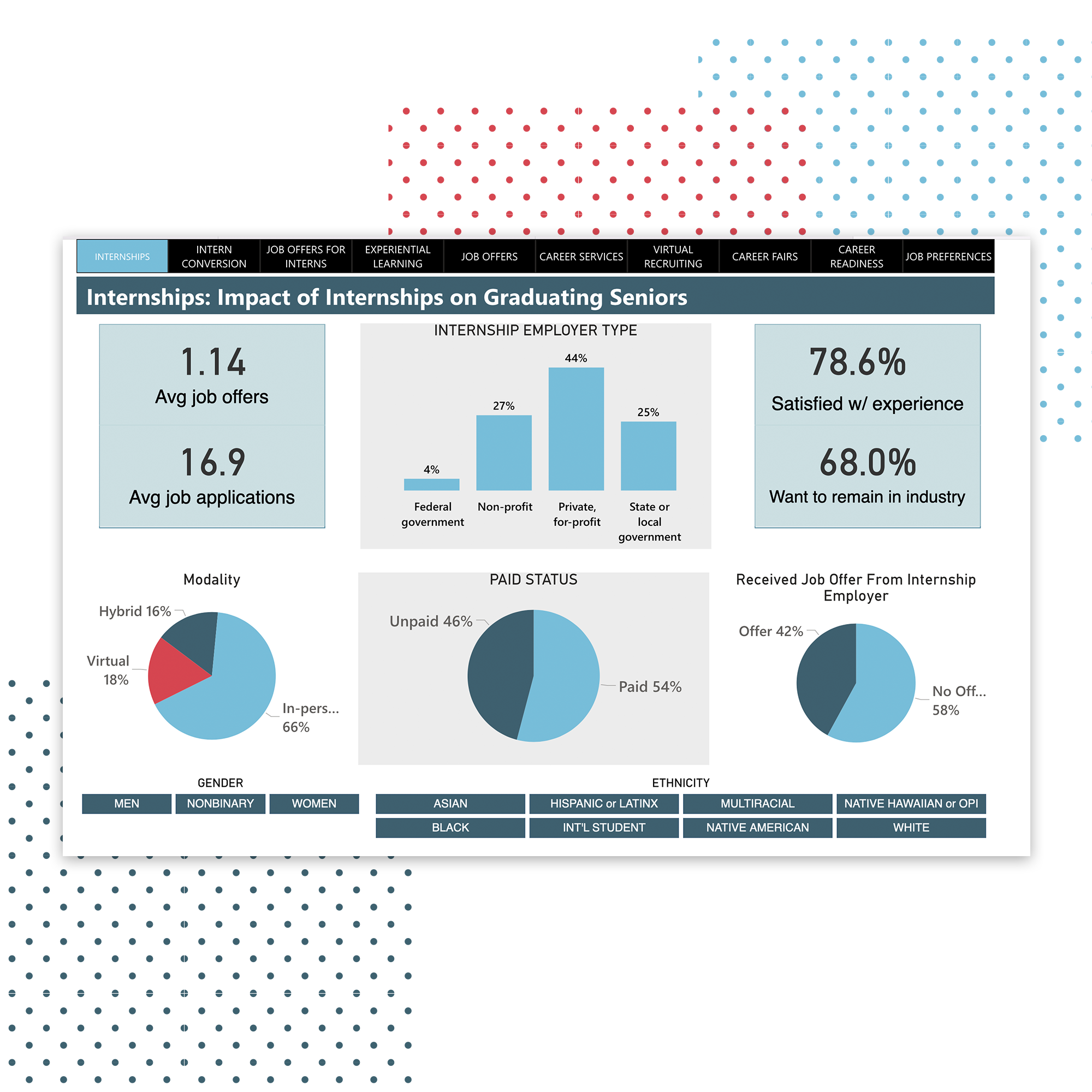 DASHBOARD
Filtered Data & Custom Views
Bring the 2022 NACE Student Survey - Class of 2022 data set to life with an interactive dashboard. Create custom views by filtering these results by gender, ethnicity, and major:
Internships: Demographics of Interns, Their Pay, Employer Types, Satisfaction Levels, and Other Outcomes for Graduating Seniors
Intern Conversion: Factors Influencing Intern's Decision to Convert to Full-time Employee for Graduating Seniors
Job Offers for Interns: Offers and Applications for Graduating Seniors by Internship Status
Experiential Learning: Experiences, Pay, Modality for All Undergraduates
Job Offers: Links with Career Services and Institutional Outcomes for Graduating Seniors
Career Readiness: Ratings of Importance and Proficiency for All Undergraduates
Career Fairs: Attendance, Interviews, & Offers for Graduating Seniors
Virtual Recruiting: COVID preferences, Attendance & Participation at Virtual Events for Graduating Seniors
Career Center Services: Usage and Helpfulness Ratings for All Undergraduates
Job Attributes and Benefits: Importance to Graduating Seniors
October 2022. Microsoft Power BI. Web format.
Watch a Demo of this year's Interactive Dashboard
---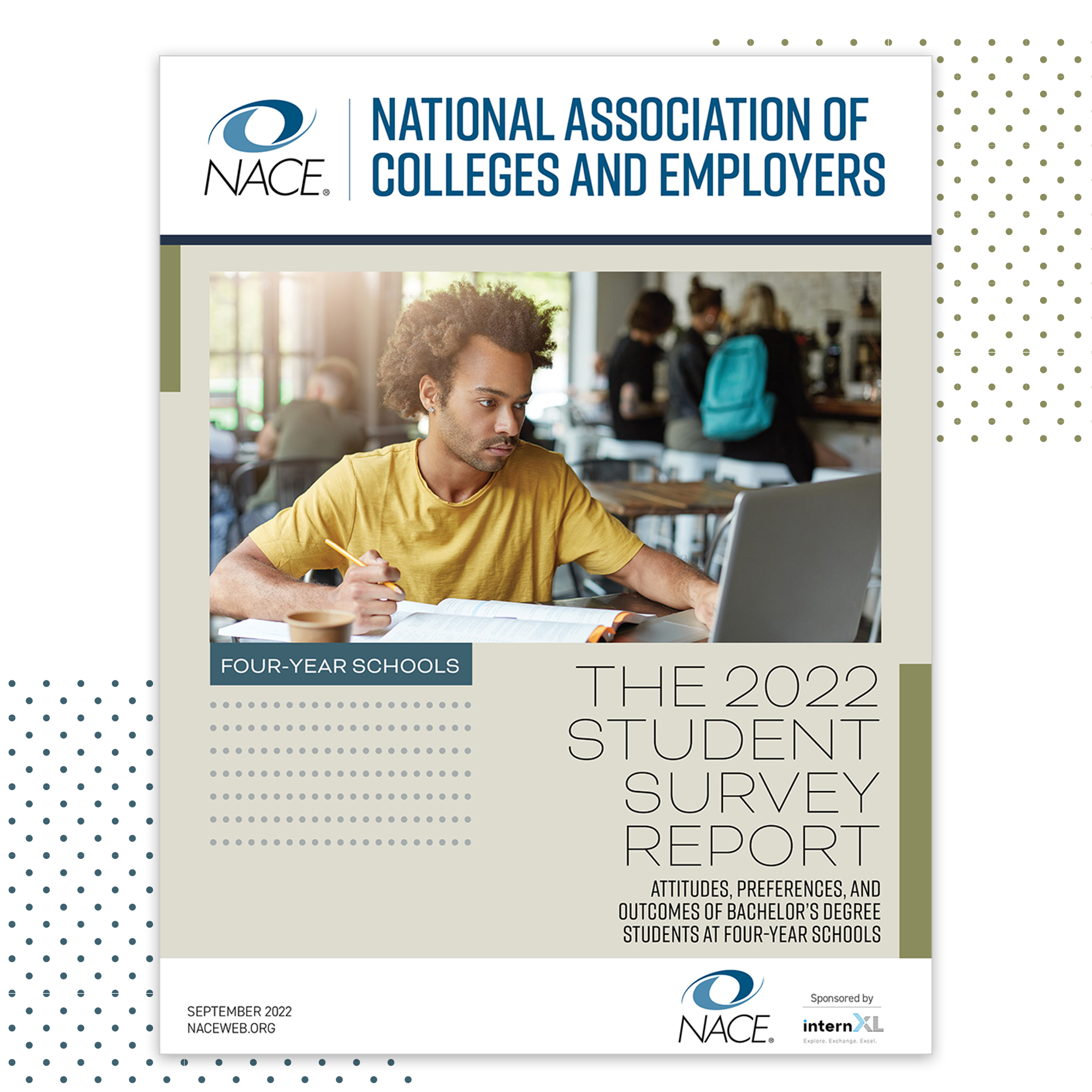 REPORT
Get the full report
How do college graduates from the Class of 2022 rank job security, tuition reimbursement, creative self-expression, corporate social responsibility, and more? What does your benefits package need to include? What will make your organization stand out among a sea of competitors? Read the full report for responses gathered directly from students.
October 2022. 8 1/2" x 11". 25 pages. PDF format.
---
Benefits of Survey Participation
An essential contribution to the profession
Primary research surveys are administered annually to assist career services and university relations and recruiting professionals in making data-driven decisions; identifying new opportunities; and forecasting for the future.
NACE members who participated in the NACE Student Survey receive free access to the report and dashboard for every single NACE member at their organization at MyNACE > Research Reports > 2022 Student Survey Report & Dashboard – 4 Year. Nonmembers who participated are eligible for a discounted rate.
To learn more about survey participation, contact NACE Research at research@naceweb.org.
---
You may also be interested in...